Cascade Blog
Dec 29, 2017
Affordable and exclusive automated smart window styling for everyone!
When it comes to the next generation of window coverings, one name has stood out for over 30 years ..... Cascade! Blinds, Awnings and Smart Shades.
Visit us at the studio or book a free quote from our Smart Shade expert team today!
Dec 1, 2017
You probably know by now that here at Cascade Blinds we specialise in home automation, focusing on blinds, shades and awnings. We can manufacture and fit just about any style of blind or shade that you desire, installing the motors to allow your fabulous new window dressing to be controlled by remote control or from an app on your smart device. There is even an option to have a button fitted on the wall so you can operate your blinds as easily as you do your light switch.


If you have seen the previous blog post or followed us on social media you may have seen some of our videos showing that you can now also control your shades simply by asking Alexa (Amazon Echo) or Google (Google home) to do it for you! Voice control is an amazing option for home automation, it's convenient, affordable and, let's be honest, it's pretty cool. While you may think that's all of the control options covered you'd be wrong, yes there are even more ways to take care of your light control.
With some of our systems there are options to have additional sensors installed. There's a sensor that will allow your blinds and shades to lower automatically if the sun starts to shine too brightly, protecting wooden floors, art work, photographs or so that that annoying glare doesn't affect your TV viewing.
A similar sensor detects the temperature of a room and if it gets too warm the blinds will lower to, again, stop the sunlight damaging items in your house, but, if the temperature is lower, say in the winter, then the blinds wont lower allowing your house to be filled with light.
Some motors used in our blinds are hard wired while the majority of others use long lasting battery packs, but even the best batteries need to be swapped or charge eventually. Well some of our systems can be installed with a small solar panel so that your battery is regularly charging via nature herself.



If this then…what?
Now while these sensors are awesome and make your life easier, there are yet more options! I mentioned a web app called If This Then That (IFTTT) in a previous blog post, and again I will be writing a full post on IFTTT soon but just now we can take a quick look at what's possible with IFTTT.
If you have your Alexa set up to work with your blinds you've probably achieved this through IFTTT, but you can also set your shades to:
Move at specific times on specific dates or days to specific positions
You can set close your blinds when you go to sleep and open when you wake up using a smart pillow
Set your blinds to open/close/move to a specific position when you leave the office or enter your home. (Using smart phone location or some car navigation systems)
You can set your roller shutters to close when it starts to rain.
Or even get your shades to move to a certain position when you receive an email!

There are so many options available, and the system really is simple to use. I am writing about it's uses with our smart devices, but IFTTT can be used in thousands of combinations for everything from sending you a tweet when Cascade Blinds posts a blog post to Facebook or have it emailing you when Cascade Blinds uploads a new video to Youtube… seriously there are thousands of uses for it and you should go have a look, or wait for our next blog post where we will be looking at IFTTT in more depth and also looking at some smart devices that you can use with your new shades system.
Until then, thanks for stopping by and follow us on social media for news and offers or why not pop in to our studio at 9 Chanonry Road South, Elgin, Moray IV30 6NG to try out the different systems and see how home automation can simplify your life, and remember, now any home can be a smart home, with Cascade Blinds..
Nov 26, 2017
A few years ago, a smart home may have been something you saw in episodes of Tomorrow's World, Eureka or The Jetsons, the thought of being able to control items in your home at the touch of a button was a very sci-fi concept to some, or so expensive to implement only the mega-rich could afford it, but not anymore.
Many homes have hubs that have the ability to connect to multiple devices via Bluetooth or Wi-Fi, so you can now quickly and easily build a home network, controlling devices and items from a single point, be it your music through a Sonos app or watching Amazon Prime Video through a Roku box the controls are at your fingertips.

Well with Cascade Blinds you can also control much more, we specialise in light control through our smart shade systems, controlling you blinds, shades, curtains and awnings with an app on your mobile device, a dedicated remote control or even a wall mounted button, just like a light switch, there's an option to suit everyone. With recent software updates and integrations, you can also now control everything simply by saying what you want! For example, using an Amazon Echo or Google Smart Home device, you can simply ask your curtains to close themselves, or tell your blinds to let in a little more light, as our MD demonstrates in the video below.
But I'm not finished yet, you can also use the power of extra applications to automate your life further, incorporating a system like 'IF THIS THEN THAT' (or IFTTT) you can set up a million more options, if you decide that you want your curtains to close at a particular time you can set that, if you want you security camera to send you a notification when it detects something you can set that, if you want your Philips Hue lights to come on once you disarm your home alarm system then you can set that, or if you want your blinds to lower when the room gets too bright then you can set that.

This may all seem complex but it's really not, it is as simple as deciding that 'IF THIS' happens 'THEN THAT' should happen (see what they did there with the name of the web app, smart eh!). I'll be writing a piece soon to tell you all about the power of IFTTT but it really is easy to use and can make forgetting to turn the lights off a thing of the past.
Cascade Blinds can supply and fit everything you need to automate you window dressings, and lots of other smart home tech, with a huge choice of blinds and shade types accompanied by an even bigger range of fabric choices and designs, there really is a style to suit everyone.
So why not pop in to our studio at 9 Chanonry Road South, Elgin, Moray IV30 6NG to try out the different systems and see how home automation can simplify your life, and remember, now any home can be a smart home, with Cascade Blinds.
Sep 6, 2017
Here at Cascade we love leading the way into the latest technology, Experience another first from Cascade Next Generation Shade Systems.
The window covering industry is about to change forever, introducing voice control for all your interior Blinds & Curtain requirements.
For more info contact Cascade today.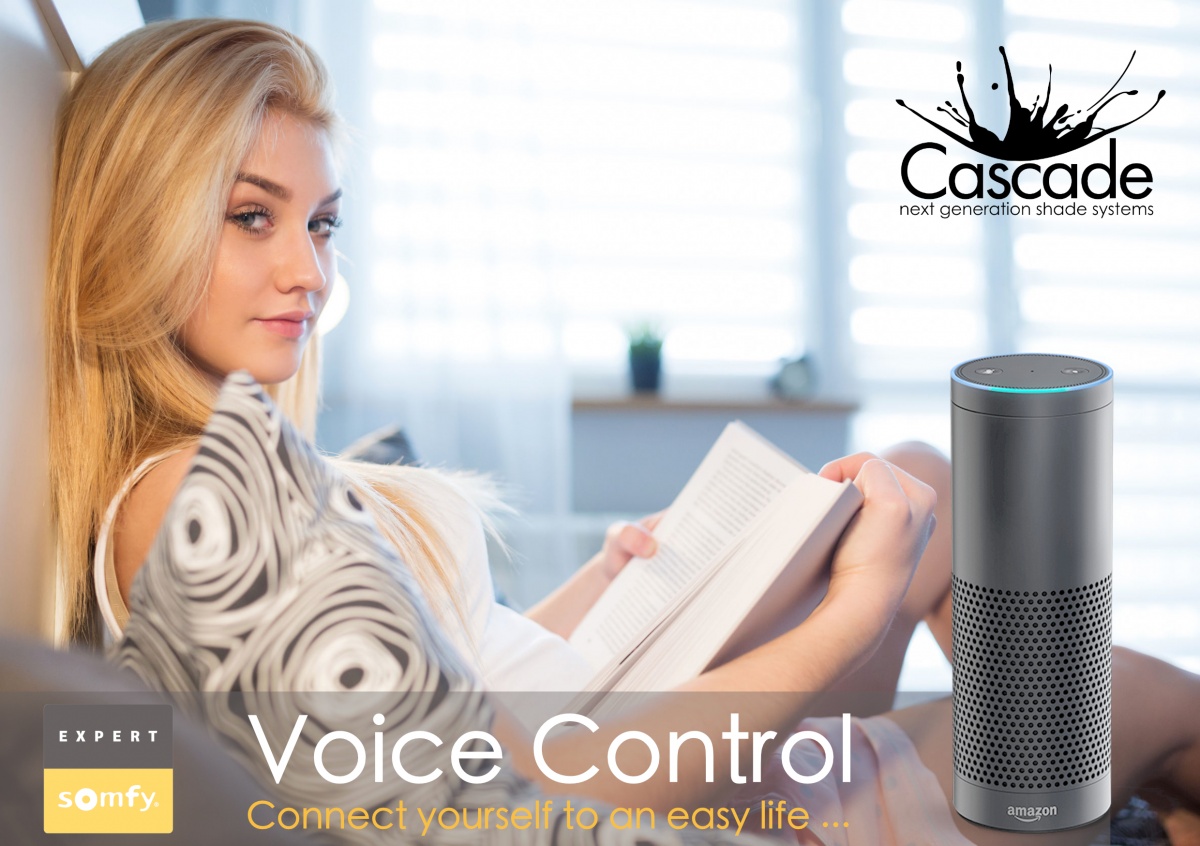 Aug 18, 2017
The new Somfy smart plug is now in stock, control your lights and electrical appliances up to 3000w.
Somfy Smart Plug works with any RTS remote control, smartphone, tablet, computer or even your apple watch,
via our Somfy TaHoma or Somfy Connexoon smart hubs.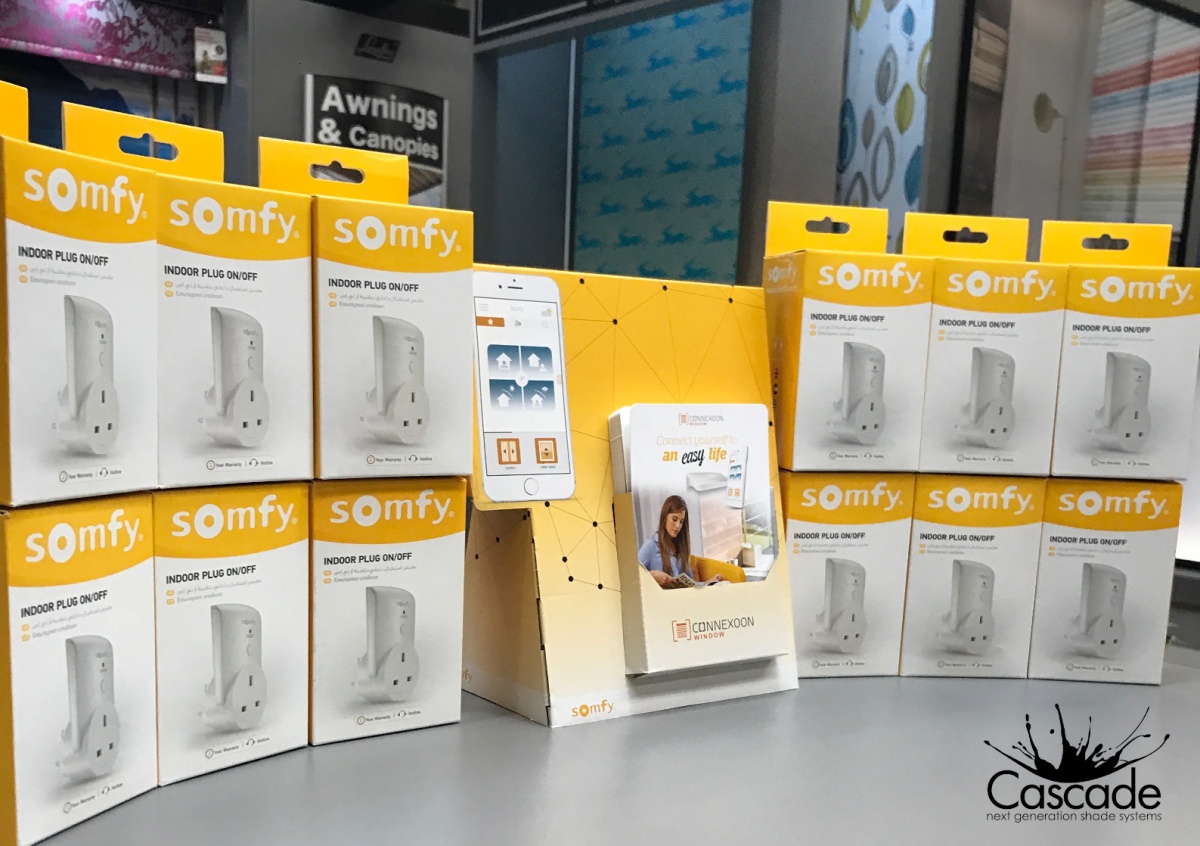 For more info contact Cascade today ...
Team Cascade
Older
Newer